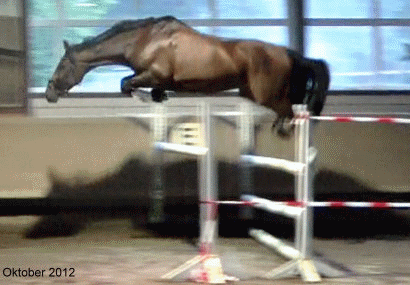 Z O E - C H A N T A L
born 24. May 2007
by Mighty Magic and Amrum I by Fasolt
Holstein, height approx. 1,66m ~16.15 hands
The second daughter of Amrum I is absolutly beautiful, noble and really correct with an extraordinary movement in all gaits in combination with an active hind quaters. Debonaire in dealing but under the rider sometimes with bubbly energie and self-confidence. After her first foal Casparo she will showing her potential in the jumping and eventing sport. After a bad choice of the rider she founds her correct rider and we have the opportunity to recover a filly.

Ancestry: The sire Mighty Magic is a three-quater-thoroughbred by Mytens xx-Heraldik xx-Lavall I-Ladalco, who could convince at the stallion licensing 2005 in Holstein with beauty and self-convidence. With the rider Andreas Dibowski he could gain great successes as a junior sport-horse. The stallion was Vice-Champion of the Bundeschampionat for young eventing horses in Warendorf in 2008, in 2009 he was qualified for the Bundeschampionat of 6 years old eventing horses again, but he couldn't start regarding an accident of his rider. But at the end of 2009 he was showing his potential again and was Vice-World-Champion of the 6 years old eventing horses in Lion d'Angers in France. He was placed in CIC*** and in 2010 he was World-Champion of the 7 years old eventing horses in France and 2011 he was placed in the national German championship. In 2012 after placing in CIC** he is now in training for dressage.
The movement of the stallion is very well, especially the outstanding canter, additional the exterior is perfect. Mighty Magic could finish his 30-days performance-test with excellent scores and he also finished the 70-days performance-test with 118 points. He presents lots of technique over the jumps and potential.
Mighty Magic represents the old Holstein mareline 1947, f.e. also the famous stallion Cambridge. The great-granddam Fiona VII by Ladalco was also dam of the international jumping horse Conradin-Janne Friederike Meyer. Mytens xx was a very correct and beautiful stallion, who is the sire of a lot of outstanding jumping and eventing horses. Heraldik xx has a lot of offspring in the international sport, a.o. Herald with Markus Beerbaum in jumping competitions, FRH Butts Abraxxas with Ingrid Klimke in eventing, Goldmedal 2008 Olympia in Hongkong and 5th Individual, 2011 Team European Champion in Luhmühlen and 2012 Team Goldmedal Olympia in London and H-Ekwador with Katarzyna Milczarek-POL in the highest dressage level.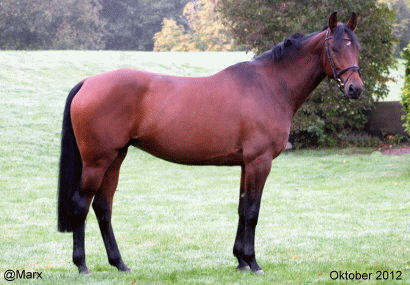 Detailed description of the pedigree and competition successes of the dam Amrum I by Fasolt: ►►►►here
More informations about the sires of this pedigree: ►►►►here
Own performance: During the freejumping and under the rider Zoe-Chantal shows a lot of potential with quick reflexes and attitude. Under the rider she is powerful and has lots of motivation but with much sensitivity and fighting spirit - therefore really similar to her mother.
Mareline: 8819
It is a line with a high power density. Starting at the beginning of the last century in Oldenburg there are a lot of sport-horses until the highest international level and licensed stallions both in Holstein and in Oldenburg.
Here you can read more about this mareline and the successes of the near ancestries in the sport. ►►►►here
Mareline of paardenfokken
Zoe-Chantal has 4 successful maternal siblings in the sport, of these 2 until 1,30m and 1,35m.

Pedigree: The pedigree shows the following inbreedings:
2x to the Holsteiner Aldato

100x to the thoroughbred St.Simon xx

6x to the thoroughbred Nearco xx
5x to the thoroughbred Tourbillion xx
each 3x to the Anglo-Arabian Ramzes x and to the thoroughbred Ladykiller xx, Blenheim xx and Anblick xx
each 2x to the thoroughbreds Ferro xx, Nasrullah xx and Hurry On xx

Additional the pedigree is free of the blood of Cor de la Bryère

Percentage of thorougbred 9 generations back: 57%

line 1947


Spectacular Bid xx

Bold Bidder xx




Bold Ruler xx


High Bid xx


Spectacular xx




Promissed Land xx


Stop on Red xx


Photografic xx




Hoist the Flag xx




Tom Rolfe xx

Wavy Navy xx


Talking Picture xx




Speak John xx

Poster Girl xx


Neika

Premium Mare


Caramel xx




Wiesenklee xx


Cranora xx


Heraldika xx




Cale xx


Helga xx

Fiona VIII

Lavall I


Madame by Sacram.Song xx


Uljana

Ladalco by Ladykiller xx


Peidra

main stud book


line 5951


line 1866

Fähnrich


Fachmann

Fera

Annelies

Loretto

Ilsabe

Konradine

Heidefreund I

Heidekrug

Schlacke

Callepute

Memnon

Kadenz

main stud book

line 18a2


Marengo

Lady by Ramzes x


Fakota


Colonel by Cottage Son xx


Flade

Irmelind

Rhadames

Raimond by Ramzes x


Edle Dame


Brictoria

Akkord by Anblick xx


210783301 by Ernoe (Ostfr)

---
Her offspring:

2011:

by Clarimo

a very beautiful, modern and characterised by thoroughbred colt with 3 excellent gaits and he jumps easily over pasture gates. Sold to Berlin for the sport

---
More Pictures:
---
Videos:
October 2012, freejumping
2009, 2 years old, stallion show of Kempke Hof
commented by Schridde