How has this private and little breeding program started?
The origin of our breeding wasn't the agriculture but the show jumping sport.

I (Cornelia Haygis) started riding at age 7. Before I've stopped in the zoo when I saw the ponys at the end of the zoo. My mother (Sieglinde Haygis) has driven my sister and I to the riding school and after 3 lesson she has also decided to learn riding with us. There she was 32 years old. Since that time the horses are a part of our life. Also my brother and my nephew, Alexander Faust, rode past.
After a few years we have purchased our first horse in March 1975, the Westfalian gelding Salut by Perser xx - Salut (Trak) - Lichtenstein (Holst) and in 1977 the first mare Dwina by Wodkin - Duft II - Folklunger. Dwina has got our first foal because she was in foal by an un- known stallion.
We were fans of mares with Penny Lane by Panther x - Wahlmann - Agram, born in 1974. She was the leisure riding horse of my mother and for me a high level show jumper until 1,45m. Only with a stick measure of 1,59m she has a lot of ambition, performance and self- confidence and every time she wanted to jump at the other side. Due to injury Penny has to make a break of 1 year and so she was covered. This was the beginning of our small and private breeding.
Her foal was Relax by Report II (Ramiro) and he made a career as a dressage horse until the highest level. Unfortunately Penny didn't got in foal again after ending her sport career. But until this time the breeding runs us in the blood. Preferably we have bought only mares for the sport with an excellent pedigree. This mares shouldn't feature only good gaits but also able to jump in an outstanding quality and good rideability, fighting spirit is desired. Well schooled horses in dressage are very important for show jumping therefore my high level jumping horses has received placings in dressage until the level M*. All horses were trained by myself.

The following characters are very important for us: performance in the sport, the mareline, the spirit, rideability and certainly health. Our broodmares have a x-ray examination and there are no inheritable features. Also our young broodmares are x-rayed with 2,5 years before covering.

Our focus is the Holstein blood of jumping horses and additional we prefer the bloodlines of Selle Francais, Anglo Normand and purebred Anglo-Arabian. Naturally there should be a lot of thoroughbred in the pedigrees. But primarily we want to bred successful jumpers therefore we are also using other breedings and brandings like Hanover, Oldenburg and Zangersheide.
Since the year 2002 we are keeping the horses in our own stable with all the needed things and a lot of grass-land. In the year 2005 I was licensed as an inseminator. It was necessary to be independent from the veterinary. So I'm able to inseminate my broodmares without a vetinary.

Penny Lane by Panther x and Winni by Wahlmann - Agram - Frio, born 1974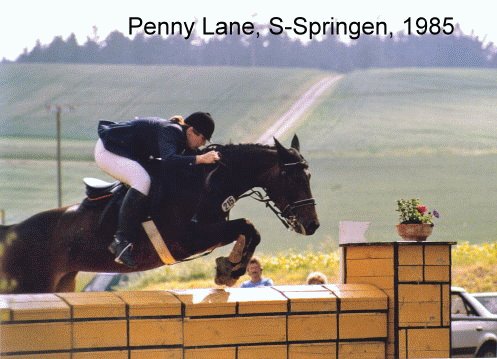 Relax by Report II and Penny Lane by Panther x - Wahlmann -Agram, born 1982