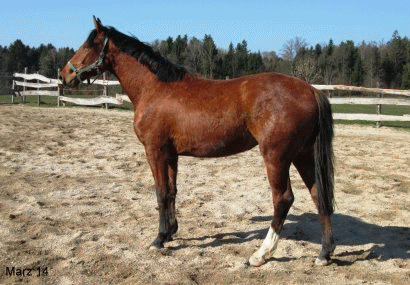 E V A I N E L A P I E R R E
born 24. May 2012

by Dollar de la Pierre and Vanisha by Lord Z

Zangersheide

The sun was shining, it was warm and Evaine was born in the pasture in the morning. She is the 4. foal of our Vanisha and granddaughter of our Amrum I. We are glad about this happy and powerful filly after the loss of her sister in 2010. She is characterised by her French sire, a strong top-line, behind legs and croup are very muscled. The canter is excellent with a lot of balance, the walk very good.

Ancestry: The sire Dollar de la Pierre was put down a few days be- fore Evaine's birth at the age of 21 years. In possession of Alfonso Romo of the Mexican stud La Silla he was finalist at the Olympic Games in 2000 in Sydney under the name Tlaloc La Silla (Tlaloc M) with Santiago Lambre/MEX. In 2002 he was World-Champion with the French team with Reynald Angot/FRA in Jerez de la Frontera and in 2003 Vice-Europa-Champion with the French team in Donaueschingen and 7th placed individual. Additional he was winner of several international Grand Prixs and Nations Cups like Hickstead, La Baule and Paris. Dollar de la Pierre is exemplary for outstanding potential, intelligence, power and a great canter with a lot of balance.

It isn't necessary to write anything about Quidam de Revel. There are only a few stallions, which have the same own performance and heredity in this outstanding kind like this stallion. His sire Jalisco B was very successful in international Championships and Grand Prixs and there is a lot of outstanding offspring with the same quality. The dam of Quidam, Dirka, a little jumping flea of 1,63m, was international successful with Nelson Pessoa. Dirka has much successful offspring in the international sport.
The dam of Dollar de la Pierre, Loripierre by Foudre de Guerre was also successful in international jumping competitions until 1,60m. After the sport she was in breeding and was a.o. dam of the licensed stallion Empire de la Pierre by Quidam de Revel, international successful until 1,60m, and Kamtchatka by Le Tot de Semilly, who is dam of the licensed stallion Orient Express by Quick Star, also internatonal successful until 1,60m with Patrick Delaveau.
You can see, there isn't often a pedigree like Dollar de la Pierre with so much international jumpers.
Among other successful jumpers like Incas de l'Oasis-McLain Ward/USA, Dollar de la Pierre is also sire of HH Rebozo (Rebozo La Silla), the jumper of Rodrigo Pessoa/BRA, who was 4th placed individual of the World-Championship with Rebozo in Kentucky in 2010 and in the final of the Olympic Games London 2012.

In France the mareline of Dollar de la Pierre signifies high performance, both for licensed sires and successful international jumpers. Quintolet du Parc, Campol, Empire de la Pierre, Orient Express, Taxi Driver, Ivan de Juraire, Guepierre and Nymphe de la Bastiere have their origin in this mareline.

The pedigree "Dollar de la Pierre - Lord Z - Fasolt" isn't common and promisses a lot for the future.
More information about Dollar de la Pierre and the other stallions of the pedigree: ►►►►here
Detailed description of the pedigree and competition successes of the granddam Amrum I by Fasolt: ►►►►here
and information about the dam Vanisha by Lord Z: ►►►►here
Mareline: 8819
It is a line with a high power density. Starting at the beginning of the last century in Oldenburg there are a lot of sport-horses until the highest international level and licensed stallions both in Holstein and in Oldenburg.
Here you can read more about this mareline and the successes of the near ancestries in the sport. ►►►►here
Mareline of paardenfokken
Pedigree: The pedigree shows the following inbreedings:
2x to the Selle Français Nankin

87x to the thoroughbred St.Simon xx

16x to the thoroughbred Dark Ronald xx

15x to the thoroughbred Ajax xx
10x to the thoroughbred Son-in-Law xx

each 4x to the thoroughbreds Orange Peel xx, Cottage Son xx and Jus d'Orange xx

each 2x to the Anglo-Arabian Ramzes x and the thoroughbreds Rantzau xx, Fra Diavolo xx, Umidwar xx and Furioso xx
The modern foundation stallions Ladykiller xx and Cor de la Bryère are only once here in the pedigree. This is easy for using Holsteiner stallions for Vanisha because most of this stallions are inbred to this stallions over and over.

Percentage of thoroughbred 9 generations back: 52%

Selle Francais


Jalisco B

Alme Z




Ibrahim


Girondine by Ultimate xx


Tanagra




Furioso xx


Delicieuse


Dirka




Nankin




Fra Diavolo xx

Constellation


Ondine de Baugy




Harphortas xx

Nadine


Loripierre

Foudre de Guerre

Nankin

Fra Diavolo xx

Constellation


Quenotte

Gagne si Peu by Ultimate xx


Garcon Manque by Foudroyant II xx


Floralie


Kalmiste




Enchantee


Nonchalante


Maroc x


Berenice


stud book 1

line 206


line 1298

Ladykiller xx




Sailing Light xx


Lone Beech xx


Viola

Ricarda

Thia

Calando I




Cor de la Bryere by Rantzau xx


Furgund

Gabriela

Meteor xx


Bandara

Amrum I
main stud book

line 5951


Farnese

Fähnrich

Annelies


Konradine


Heidefreund I


Callepute

Prictoria

Marmor

Marengo by Marlon xx

Fakota


Irmelind

Brictoria by Akkord-Anblick xx

---
More Pictures:

---
Videos: