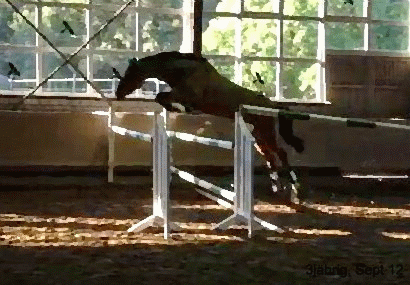 C R I C C R A C

born 12. June 2009
by Corrado I and Amrum I by Fasolt
Holstein, height approx. 1,68m ~16.2 hands
He is the 9th and last foal of our Amrum I. With a strong back and a really good muscled croup he is a very athletic, elastic and modern gelding with an outstanding character. The canter is absolutly excellent and "uphill", but also the trot and walk are fairly good. He is promising a lot for his future as a high quality sport horse with an extraordinary potential of jumping and if he will receive a competent training, he will surely be successful in the sport similar to his siblings.
Cric Crac is sold to North Rhine-Westphalia.
Ancestry: The sire is Corrado I by Cor de la Bryère and Soleil by Capitol I - Maestose xx. His own and the successes of his offspring in jumping competitions are fantastic and outstanding. After he was finalist at the Bundeschampionat in Warendorf, at the age of 7 years he was already successful in international competitions. His further career he started with Franke Sloothaak and they were winning a lot of Grand Prixs and Weltcup competitions and placed in Nation Cups.

His offspring has the same outstanding ability for jumping like Corrado I himself and you can find them in the results of international jump- ing competitions. Especially mentioning: Classic H-Toni Hassmann, Corrada-Peter Charles/GB, Cosima-Markus Fuchs/CH, Think Twice-Leo- pold van Asten/NL, Cabrio-Felix and Toni Hassmann, Clinton-Dirk Demeersman/BEL, sire of Cornet Obolensky-Marco Kutscher, and Corra-dina-Carsten-Otto Nagel, who was in 2008 3rd placed in the Grand Prix of Aachen and also in other *****Grand Prixs. In 2009 she was Vice-Champion and third with the team of the European Championships and in 2010 World-Champion of the team and 5th placed at the final of the World Championship in Kentucky. 2011 she was again Vice-Champion of the European Championships and European Champion with the team in Madrid.

Meanwhile many licensed sons of Corrado I are internationally successful: a.o. Corofino I and Corofino II, Coriano, Coronado, Clinton, Indorado and Cascane. Crawford from the Holsteiner Verband was qualified in 2008 for the Bundeschampionat in Warendorf and is now successful until 1,50m. Altogether over 25% of the offspring of Corrado I is successful to the highest level of 1,60m, additional in inter- national competitions.
About Capitol I and Cor de la Bryère we don't need to explain anything, both are heroes of the Holsteiner breeding of jumping horses.

The small but important mareline 6879 of Corrado I is producing a lot of international successful jumping horses. These are a.o.: Aquino-Franke Sloothaak, Baden-H.Evers, Original Holsatia and Baden-Baden-Fritz Thiedemann, the full-brothers Landlord-Ludger Beerbaum and Lausbub-Achaz von Buchwald, winner of the Derby of Hamburg and now Carlina-Pius Schwitzer/CH.
Also the licensed stallions Chellano Z-Zangersheide and Connor-Holsteiner Verband, the dam is full-sister of Corrado I and II, and Cayado-Holsteiner Verband, here the granddam is a full-sister of Corrado I and II. All successful horses of this mareline have the origin in the dam Organisation by Heinzelmann.
Detailed description of the pedigree and competition successes of the dam Amrum I by Fasolt: ►►►►here
More information about the sires of this pedigree: ►►►►here
Corrado I with the blood of Farnese is promising a lot of quality like Corofino I and II.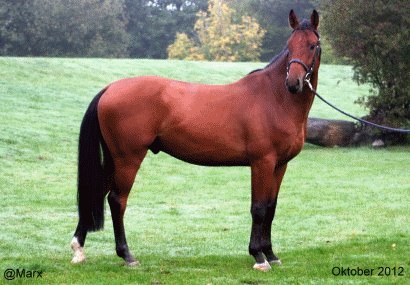 Own Performance: Since August 2012 Cric Crac is under the saddle and he shows a great rideability, sensitive but easy to handle. The free- jumping is outstanding with lots of potential, power and spirit, it is cha- racterised by his sire Corrado I.

Mareline: 8819
It is a line with a high power density. Starting at the beginning of the last century in Oldenburg there are a lot of sport-horses until the highest international level and licensed stallions both in Holstein and in Olden- burg.
Here you can read more about this mareline and the successes of the near ancestries in the sport. ►►►►here
Mareline of paardenfokken
Cric Crac has 4 successful maternal siblings in the sport, of these 2 until 1,30m and 1,35m.

Pedigree: The pedigree shows the following inbreedings:
49x to the thoroughbred St.Simon xx
11x to the thoroughbred Dark Ronald xx
6x to the thoroughbred Son-in-Law xx
each 4x to the Anglo-Arabian Ramzes x and the thoroughbred Ferro xx
each 2x to the thorougbreds Abendfrieden xx, Nearco xx and Cottage Son xx
Percentage of thorougbred 9 generations back: 45%

line 6879

Anglo Normanne

Rantzau xx




Foxlight xx




Foxhunter xx


Chouia xx


Rancune xx




Cavaliere d'Arpino xx


Rockella xx


Quenotte B




Lurioso


Furioso xx

Riquette


Vestale du Bois




Landau

Kristine du Bois Margot


line 173

Capitano


Corporal by Cottage Son xx

Retina by Ramzes x

Folia


Maximus by Manometer xx

Vase by Ramzes x

Kürette


Maestose xx




Sovereign Path xx


Catchmenot xx


Tamino

Frivol xx


Contiane


Amrum I
main stud book


line 5951


line 1866

Fähnrich


Fachmann

Fera

Annelies


Loretto

Ilsabe

Konradine

Heidefreund I

Heidekrug

Schlacke

Callepute

Memnon

Kadenz

main stud book

line 18a2


Marengo

Lady by Ramzes x


Fakota


Colonel by Cottage Son xx


Flade

Irmelind

Rhadames

Raimond by Ramzes x


Edle Dame


Brictoria

Akkord by Anblick xx


210783301 by Ernoe (Ostfr)

---
More Pictures:
---
Video:
freejumping September 2012, 3 years old

freejumping October 2011, with 2 years

at the age of 6 weeks
at the age of 2 weeks