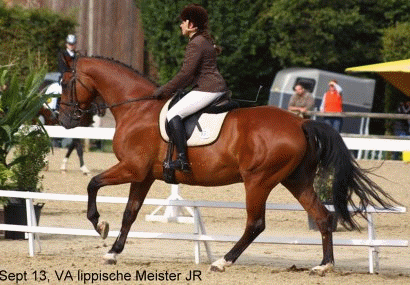 L A N C A S T E R P I P P

born 5. May 2000
by Lascadell and Amrum I by Fasolt
Holstein, 1,63m height ~16.0 hands
Lancaster Pipp is the 2nd foal of Amrum I, the first after her sport career and since she was our horse. Lancaster Pipp was sold when he was a colt. Max Meyer is the breeder because Amrum I was in care for breeding from May 1999 til October 2002 in Dellstedt. Max Meyer is also breeder of Amrum I. Since Lancaster Pipp is 4 years old he is in property of a young lady, who is successful with Lancaster Pipp in jumping competitions from 1m until 1,25m. He is very spirited and individual, but extreme powerful under the saddle. In 2013 both were lippischer (region of Westphalia) Eventing Champion for young riders. He is a horse for the whole family, the younger sister competes with Lancaster Pipp in beginner jumping competitions.

Ancestry: His sire Lascadell by Landgraf I - Sacramento Song xx - Ladykiller xx, mareline 4303, was successful in jumping competi- tions in Austria after his licensing in Holstein. When he was back in Germany he was at the stallion station Völz for some years and now he is sold to Hungary. His dam Mairike by Sacramento Song xx was successful in jumping competitions until 1,55m. More than average the offspring of Lascadell is now successful until 1,50m and more. A.o. Largo - Christian Ahlmann and Lasca - Thies Luther

Detailed description of the pedigree and competition successes of the dam Amrum I by Fasolt: ►►►►here
Own performance: Lancaster Pipp was successful in jumping competitions for young horses until 1,25m. Meanwhile he is several winner of competitions until 1,25m and is successful in eventing and dressage level A. 2013 regional Eventing Champion for young riders.

Mareline: 8819
It is a line with a high power density. Starting at the beginning of the last century in Oldenburg there are a lot of sport-horses until the highest international level and licensed stallions both in Holstein and in Oldenburg.
Here you can read more about this mareline and the successes of the near ancestries in the sport. ►►here
Mareline of paardenfokken
Lancaster Pipp has 3 successful maternal siblings in the sport, of these 2 until 1,30m.
Pedigree:
Lascadell


line 4303


line 275


Ladykiller xx

Sailing Light xx




Blue Peter xx


Solar Cygnet xx


Lone Beech xx




Loaningdale xx


Fartuch xx


Warthburg




Aldato




Kreta


Schneenelke




Fangball

Blümchen


Mairike

Sacramento Song xx


Sicambre xx




Prince Bio xx


Sif xx


Easter Gala xx




Sayajiaro xx


Easter Day xx


Corlina


Ladykiller xx




Sailing Light xx


Lone Beech xx


Soziale

Löwenjäger


Edelblume

main stud book


line 5951


line 1866

Fähnrich


Fachmann

Fera

Annelies

Loretto

Ilsabe

Konradine

Heidefreund I

Heidekrug

Schlacke

Callepute

Memnon

Kadenz

main stud book


line 18a2


Marengo

Lady v. Ramzes x


Fakota


Colonel v. Cottage Son xx


Flade

Irmelind

Rhadames

Raimond v. Ramzes x


Edle Dame


Brictoria

Akkord v. Anblick xx


210783301 v. Ernoe (Ostfr)

---
More Pictures: