Mareline 8819 in Holstein


The origin of this mareline is East Frisian (Oldenburg) in the beginning of the 20th century, the first mare was registered 1918.
The breeder Max Meyer in Dithmarschen, Schleswig Holstein was mainly breeding with this mareline. He was also the breeder of our Amrum I, who was 25 years old. The foundation mare of Max Meyer was Prictoria by Marmor and Irmelind by Rhadames and Brictoria by Akkord. Prictoria was 30 years old and has had 18 foals. The most of her daughters are also in breeding.

Additional in Holstein Walter Werkmeister, Daldorf and Manfred Ternäben, Struvenhütten have bred with this mareline. Walter Werkmeister was breeding with the both full-sisters of Prictoria, Sitoria by Calvados I and Britta by Castro.
---
We are breeding or have bred with the following broodmares of this line:
Amrum I by Fasolt and Prictoria by Marmor - Rhadames - our foundation mare, retired in 2009

born 1986, died 2011

Vanisha by Lord Z and our foundation mare Amrum I by Fasolt


born 2005

Zoe-Chantal by Mighty Magic and Amrum I by Fasolt, breeding in 2011, currently in the sport


born 2007
---
Prictoria is a.o. dam of:
Acajou by Acadius, full-brother of Ashley and successful in jumping until 1,15m and dressage until level A
Amrum I (FN: Frufru) by Fasolt, successful until 1,40m
Ashley by Acadius, successful until 1,30m
Asbach by Alasca, successful in jumping until 1,20m and dressage until level L
Ladalco by Lux Z, several times winner of jumping competitions until 1,60m and high-jumping competitions
Libero by Lux Z, successful until 1,20m
Prictoria is a.o. granddam of:
Caffrey by Calido I and Falke I by Ahorn Z, in SWE successful until 1,40m, full-sister of Lyssah
Caligula by Calido I and Falke I by Ahorn Z, in SWE successful dressage until St.Georg level, full-brother of Lyssah
Cavour by Calido I, successfull in dressage until L-level, full-brother of Lyssah
Cheyenne FLB by Calido I and Falke I by Ahorn Z, in SWE successful until 1,35m, full-sister of Lyssah
Cil by cash and Carry and Amrum I by Fasolt, successful until 1,30m
Cool Cad by Caproni and Amrum I by Fasolt, successful until 1,35m
Coriola by Concept and Zierrose II by Fasolt, in CZE successful in jumping competitions
Lancaster Pipp by Lascadell and Amrum I by Fasolt, successful until 1,25m, eventing level A (1,15m) and dressage level A
Locato Sonn by Locato and Zierrose II by Fasolt (full-sister of Amrum I), successful until 1,25m, licensed KWPN
Lyssah by Calido I and Falke I by Ahorn Z, 1999 Vice Champions Mare Holstein, 2000 European Champion Mare in Brüssel, successful in international jumping competitions until 1,60m with Felix Hassmann

Orelie by Ramirado and Die Alexandra by Ahorn Z, successful until 1.30m

Quite Long by Quite Capitol and Die Alexandra by Ahorn Z, successful until 1,25m
Respect 2 by Ramirado and Die Alexandra by Ahorn Z, international placed in jumping competitions until 1,55m, winner until 1,50m

Sisi Myra by Quick Star and Die Alexandra by Ahorn Z, successful until 1,50m

Solos Casmea by Castro and Carnea S by Ahorn Z, in DEN successful in jumping competitions
Prictoria is a.o. great-granddam of:
Aladin full-brother of Karthago, licensed in Spain
Catania by Calido I and Janka II by Lux Z, international successful until 1,40m
Conzepttina by Concerto II and Griet by Salient xx and Zierrose II (full-sister of Amrum I), successful international Grand Prixes until 1,60m
Don Juan by Airline and Caffrey by Calido I, in SWE successful until 1,25m
Karthago by Alasca and Dahlie (Hierrose) by Lord Calando and Zierrose II by Fasolt, licensed KWPN now USA, successful international jumping competitions until 1,50m

La Riserva by Acorado I and Griet I by Salient xx, in Italy successful in jumping competitions

Orofino by Corofino I and Dahlie by Lord Calando, in SWE successful until 1,40m

Prictoria ist a.o. great-great-granddam of:
Coup de Cavalier by Calido I and N-Concerta by Concerto II and Griet I, successful until 1,30m
Darno Z by Darco and Candaletta R by Calido I and Janka II by Lux Z and Zierrose II, licensed in Brasil
Part of Sitoria by Calvados I and Britta by Castro:
Candlelight by Coriall and Britta by Castro, successful until 1,30m
C'est la vie by Carthago and Zedris by Calimero, successful until 1,30m
Don Duarte by Don Primero and Britta by Castro, successful in international dressage competitions until the highest level
Golo 76 by no-name stallion and Irmelind by Rhadames, successful in dressage until medium level
Grey Stoke by Grand Galopin and Pamissa by Picasso, successful in dressage until L-level
Laco by Lacapo and Sitoria by Calvados I and Irmelind by Rhadames, licensed
Lavaris by Lavado and Zedris by Calimero, successful in dressage until medium level

Leonida by Leonid and Zedris by Calimero, successful in dressage until L-level
Leyla by Alcatraz and Finja by Zünftiger xx, successful until 1,20m

Lucky Luke by Lucky Champ and Britta by Castro, winner until 1,20m
Lucky Star by Lucky Champ and Britta by Castro, successful in dressage until the highest international level with Uwe Sauer
Radisson BB by Romino and Zedris by Calimero, successful in dressage until medium level
Here the following stallions are licensed:
Aladin full-brother of Karthago, licensed in Spain
Darno Z by Darco and Candaletta R by Calido I, licensed in Brasil
Karthago by Alasca and Dahlie (Hierrose) by Lord Calando and Zierrose II by Fasolt. Karthago is licensed for KWPN, now stallion in USA

Laco by Lacapo and Sitoria by Calvados I and Irmelind by Rhadames, licensed for ZfdP

Locato Sonn by Locato and Zierrose II by Fasolt (full-sister of Amrum I), KWPN licensed
Lucky Star by Lucky Champ and Britta by Castro and Irmelind by Rhadames, licensed for ZfdP
This aren't all successful horses of this mareline because they would be too much

---
Mareline 8819 as Mareline of Viktoria in Oldenburg (and Hanover)
Here the following stallions are licensed:
Format (Furioso III) by Furioso II and State Premium / Elite Mare Verona by Weltmeister, licensed in Brazil
Halef by Haladin ox and Viktoria II by Gilbert, licensed Oldenburg
Larius by Landor S and State Premium Mare Viktoria B by Sion, licensed Oldenburg, successful until 1,30m
Luberon by Landor S and State Premium Mare Viktoria B by Sion, licensed Oldenburg, State Stud in Schwaiganger of Bavaria, successful in dressage until medium level and jumping until 1,20m
Pinon Patriot (FN: Löwentraum) by Löwenstein and Madera II by Grannus, licensed Hessen and Oldenburg
Rabano by Rohdiamant and State Premium / Elite Mare Veronique by Landadel, successful in dressage until Intermediaire I, 1e Premium stallion during the Stallion Licensing in Vechta
Wildschütz by Wingolf and Vesta by Echo, licensed Oldenburg
Successful in competitions:
Andriano by Airport and Julia by Jonas, successful in dressage until level M and S
Cap Corro by Corradino and State Premium / Elite Mare Verona by Weltmeister, successful until 1,40m

Donnar by Del Piero and State Premium Mare Valencia by Landadel, successful until medium level in dressage
Dream for me by Day Dream and Premium Mare Version by Sion, successful in dressage until medium level
Feueropal by Furioso II and Vronika by Volturno, successful in dressage until level M and S
Flying High by Furioso II and State Premium / Elite Mare Vrona by Volturno, international jumping shows until 1,60m with Helena Weinberg
Forty Niner by Furioso II and Vroni by Manolete xx, dressage until the highest level and jumping until 1,30m
Golden Boy 16 by Gabriel and mare by Wingolf, winner in jumping competitions M and S

Granni by Grannus and Madera by Odysseus, winner until 1,55m and with her breeding name Madera II dam of the licensed Pinon Patriot
Imperieux by Inschallah x and State Premium / Elite Mare Verona by Weltmeister, successful dressage until medium level
Leo H by Landadel and State Premium / Elite Mare Verona by Weltmeister, jumping level until 1,55m
Leone 25 by Le Ceour and State Premium / Elite Mare Verona by Weltmeister, successful until 1,30m
Lordlapis by Lordanos and State Premium / Elite Mare Venedig by Landadel, successful until 1,30m
Lumpacio-Vagabundo by Landadel and State Premium / Elite Mare Verona by Weltmeister, successful until 1,40m
Maria Callas by Contender and Furina by Furioso II, international Nations Cups and Grand Prixes until 1,60m with Ben Schröder/NL
O.Farina.M by Quidam de Revel and Furina by Furioso II, in the Netherlands international successful until 1,50m
Radiator by Rouletto and Viola by Furioso II, jumping competitions until 1,55m
Rascalon by Royal Dance and State Premium / Elite Mare Venedig by Landadel, successful dressage until level Intermedaire I and St.Georg
Sympathico by Strohmann xx and State Premium / Elite Mare Verona by Weltmeister, winner international dressage until Grand Prix, Special and Freestyle
Valentina B by Landor S and Variell by Volturno, participant of the German Championship of young riders in eventing, CCI* and CIC*
Floggensee's Venecia by Placido and State Premium / Elite Mare Verena, successful until 1,20m and eventing until 1,10m, qualified for the Bundeschampionat 5 years old eventing horses
Viktoria by Sion and Veronique by Landadel, dressage until the level Intermediaire I, Viktoria is full-sister of the Champion Mare Viktoria B

Virginia by Rubin-Royal and State Premium / Elite Mare Verena, State Premium, 1g placed 2007 Elite Broodmare Show Oldenburg, winner in eventing L (1,20m) and qualified for the Bundeschampionat 6 years old eventing horses
Vivacite by Grannox and State Premium / Elite Mare Venedig by Landadel, dressage until the highest level and jumping until 1,20m
Viva Eika by Ex Libris and Variell by Volturno, eventing CCI* and CIC, half-sister of Valentina B
Vulkan by Volturno and Varia by Furioso II, successful until 1,55m
Wembley 140 by World Cup II and mae by Markus, successful dressur and jumping until medium level, full-brother to Wotticelli SW

Whisper H.E. by Carland and O.Farina.M by Quidam de Revel, international jumping competitions until 1,60m
Wotticelli SW by World Cup II and Stute by Markus, with Isabell Werth international winner in Grand Prix and successful in Special and Kür
There are not all horses of this mareline which are successful. They would be to much
---
Successful in Elite Broodmare Shows of Holstein and Oldenburg:

State Premium/Elite Mare Venedig by Landadel and State Premium/Elite Mare Verona by Weltmeister, 4th placed National Elite Broodmare Show in 1990
State Premium/Elite Mare Viktoria B by Sion and State Premium/Elite Mare Veronique by Landadel, 1995 Champion Elite Broodmare Show Oldenburg
State Premium Mare Lyssah by Calido I and Falke I by Ahorn Z, 1999 1.Vice Champion Mare Holstein, 2000 European Champion Mare Brüssel
State Premium Mare Virginia by Rubin Royal and State Premium/Elite Mare Verena by Sion, 1g Elite Broodmare Show Oldenburg 2007

State Premium Mare Venecia by Placido and State Premium/Elite Mare Verena by Sion, qualified for Elite Broodmare Show Oldenburg 2008

---
Overview of the Mareline 8819 and Mareline of Viktoria:
(is not intended to be exhaustive)
Researched from Cornelia Haygis as a pdf: here line 8819

(is not intended to be exhaustive)

---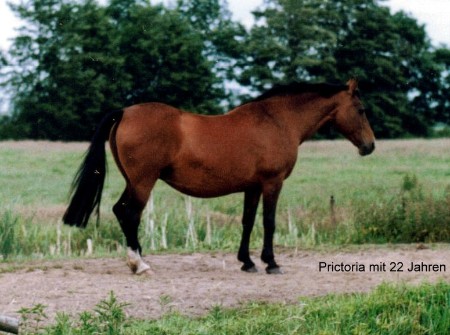 Maternal ancestors of Amrum I:
Amrum I, main studbook, born 1986, 48 pts, br, by Fasolt
and Prictoria, main studbook, born 1978, br, by Marmor
and Irmelind, main studbook, born 1972, br, by Rhadames
and Brictoria, main studbook, br, by Akkord
and mare by Ernoe (East Frisian-Oldenburg)

and Victoria II by Gilbert

and Victoria, born 1956, by Wingolf

and Vesta I, born 1938, by Echo

and Vesta, born 1930, by Grumbach III

and Voga II, born 1918
The splitting in 2 marelines, for one thing mareline 8819 in Holstein and for another thing mareline of Viktoria in Oldenburg, happened with the mare Victoria II. Her daughter by Ernoe was registered in Holstein and her daughter Vroni by Manolete xx in Oldenburg