This mareline is traceable til middle of the 19th century, in 1867 the first mare was born and registered. Figurehead is the stallion of the Holsteiner Verband Locato by Lord and Wienna by Cor de la Bryère and Genoveva by Marlon xx. Locato is a.o. sire of Eurocommerce Monaco, successful in international Championships of Jumping with Gerco Schröder/NL. The offspring of Locato is successful to the highst jumping level, more in jumping but also in dressage.
Mainly Elisabeth and Hobe Bernhard, Kollmar for Holstein and Heidi Schulze-Baumeister, Stuttgart for the Westphalian have bred with this mareline. Today there are many breeders of this mareline in all breeding associations.

The granddam of Locato, Genoveva by Marlon xx, is also the great-granddam of our foundation mare Madonna III
---
We are breeding or have bred with the following dams of this line:
Madonna III by Parco xx and Freya Be by Coriolan-Rebel Z I -our foundation mare, breeding til 2010

born 1997, sold 2011


Caitríona by Lord Z and Madonna III by Parco xx - Coriolan


born 2010

---
Licensed Stallions:
Costa by Colt and Wanda by Master Richard xx
Calentino by Caretino and Esra VI by Lord Incipit, licensed in Canada
Damour by Dramaturg and Gräfin by Grannus, half-brother of Rex Grannus
De Martino by Don Schufro - Sandro Hit a.d. Emotion by Calypso I, 2010 Champion of the Oldenburger licensing in Vechta
Faktor by Fafnir and Lobelia by Meisterknecht
Labrador by Landgraf I and Liesa by Ramzes x
Locato by Lord and Wienna by Cor de la Bryère
Marlo by Marlon xx and Adria by Heilbutt
Nogi by Nordmark and Koboldin by Neptun
Ortwin by Füsilier and Katausche by Champion-Y.
Quali-Quanti by Quidam de Revel and Naomi Z by Nonstop, Zangersheide, the granddam of Madonna III is here the great-granddam

Queen's Land by Quantum and Diva by Dramaturg, half-brother of Le Roi du Soleil
Rex Grannus by Rex Fritz and Gräfin v. Grannus, half-brother of Damour
Rubin S by Ronald and Hilda by Tin Rod xx
Successful sport-horses are a.o.:
Alexios 1 by Ahorn Z and Silvana by Lord, winner in Grand Prix until 1,55m with Ulrich and Lars Meyer zu Bexten
Cartier M.O.C. by Calypso I and Hilda by Tin Rod xx, half-brother of Rubin S, successful in dressage until highest level
Cayles by Casall and State Premium Mare Harriett II by Lord Incipit, international winner until 1,50m
Choco by Capo and Esra IV by Lord Incipit, successful until 1,35m
Cisko by Carpaccio and BP La Calera by King Milford xx, winner dressage medium level and successful until the highest level
Con Cara by Con Air and BP Nobilitas by Franklin, winner until 1,35m, 2012 world champion of the 5years old jumping horses in Lanaken/ BEL and 7th final Bundeschampionat Warendorf

Cordelia by Coriano and State Premium Mare Zangersheide by Rebel Z I, international successful until 1,50m
Corico W by Contender and Peanuts by Coriano, successful until 1,45m
Cordeur by Cor de la Bryère and Genoveva by Marlon xx, international successful and "Horse of the Year 1986" in USA
Corieda by Coronado and State Premium Mare Elysee VI by Lancer II, auction-horse of Neumünster, successful until 1,55m
Cosima by CashandCarry and State Premium Mare No Means No by Cassini II, international successful until 1,50m
Countess by Carabas and BP dam Rebecca III by Lorentin I, in SWE successful in dressage until highest level

Diva R by Dramaturg and Gräfin by Grannus, winner until 1,35m
El Divina by Ex Libris and Daphne by Dramaturg, successful until 1,50m
State Premium Mare Harriett by Lord Incipit and State Premium Mare Zangersheide by Rebel I Z, successful until 1,40m with Toni Hassmann
La vie en Rose by Lord Incipit and T-Calais by Caletto I, successful until 1,30m in GER, international successful until 1,50m in USA

Labrador by Landgraf I and Liesa by Ramzes x, winner in international jumping competitions until 1,60m
Lac Laurent by Lorenz and Fortuna by Marlon xx, successful until 1,50m
Lambada 8 by Latus II and Tessa by Corvado, winner until 1,50m
Larry Boy by Lord and Roncalla by Ronald, successful until 1,50m
Latigo 3 by Laertes and Ina by Urioso, successful until 1,55m
Le Roi du Soleil by Last Liberty and Diva by Dramaturg, successful until 1,45m, half-brother of Queen's Land
Liebling by Laertes and Zofe by Heilbut, winner until 1,35m and successful until 1,45m
Ligorvien by Ligorett and Vienna II by Cor de la Bryère, winner of dressage until level M
Lincoln 14 by Landgraf I and Genoveva by Marlon xx, winner until 1,55m with Franke Sloothaak and Ludger Beerbaum
Lombard by Ladykiller xx and Zofe by Heilbutt, successful dressage level L, jumping until 1,30m and eventing until level L
Luca's Nightclub by Lorentin I and Viola by Lorenz, successful in driving competitions for pairs until M
Lugato 2 by Lord and Genoveva by Marlon xx, winner until 1,35m and successful until 1,45m
L.H.Lynco by Literat and Wonderfultime by Landgraf I, winner of highest level dressage
M-Lafayette by Lennon and State Premium Mare Elysee VI by Lancer II, successful in GER until 1,35m, in FRA until medium jumping tour
Madagascar by Ferragamo and Panthera by Primero, international successful until 1,50m
Maetresse by Marius and Wanda by Master Richard xx, successful until 1,55m
Paying by Paramount and Florida Lady by Lavado, sucessful eventing level 1,20m, qualified for the Bundeschampionat eventing 2010
Quali Quanti by Quidam de Revel and Naomi Z by Nonstop, winner until 1,35m, qualified for the Bundeschampionat jumping 2011
Renata by Landgraf I and Musica by Cor de la Bryère, winner until 1,55m
Rex Grannus by Rex Fritz and Gräfin by Grannus, successful until 1,50m and 2,20m
Rubin S by Ronald and Hilda by Tin Rod xx, successful until 1,50m
Sinfonie by Silvester and Genoveva by Marlon xx, winner until 1,35m and successful until 1,45m
Sunset by Acorado I and Kib by Landgraf I, in NL successful eventing ***
York 12 by Coriano and State Premium Mare Zangersheide by Rebel Z I, international successful until 1,60m
This is only a part of the successful horses of this mareline
---
Broodmare Shows:
Liesa by Ramzes x and Griselda by Falkenjäger - Favorit, winner of the Elite Broodmare Show in Holstein in 1955

State premium mare Utopia XIV by Aljano and BP Nobilitas by Franklin - Lord Incipit, participant Elite Broodmare Show Elmshorn in 2007
Casalina by Casall and Florida Lady by Lavado - Marlon xx, winner broodmare show Pinneberg in 2013
---
Overview line 749:
Mareline of paardenfokken
(is not intended to be exhaustive)
Researched from Cornelia Haygis as a pdf: line 749 here

(is not intended to be exhaustive)
---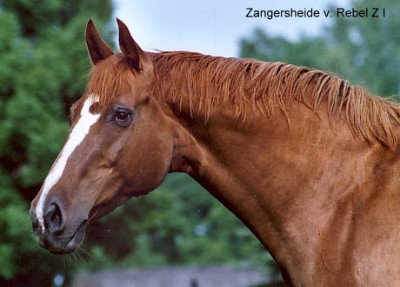 Maternal ancestors of Madonna III:

Madonna III, district premium mare, born 1997, 48 pts, br, by Parco xx
and Freya Be, main studbook, born 1991, br, by Coriolan
and Zangersheide, state premium mare, born 1985, chesnut, by Rebel Z I
and Genoveva, main studbook, born 1973, br, by Marlon xx
and Barbara, studbook, born 1965, br, by Hanselmann
and Liesa, main studbook, born 1952, grey, by Ramzes x
and Griselda, main studbook, by Falkenjäger
and Eva by Favorit
and Meta, born 1912, br, by Siegmund
and Veilchen, born 1898, br, by Juelf
and Petra, born 1893, dbr, by Ethelbert
and Karausche, born 1885, black, by Champion
and Mike (Ahne 2055), born 1875, br, by Young Volontaire
and Rabe (Ahne 1491), born 1867, br, by Hector