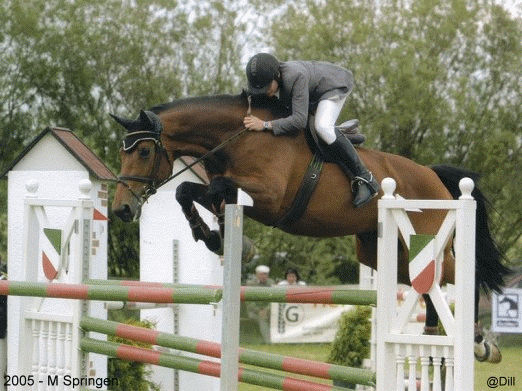 L A G O M E R A

born 11. April 1996, †24.October 2012

by Tin Rocco and Corinna I by Lakai
Holstein, premium foal, breeding book 1,
1,72m ~16.35 hands
In November 2000 we have purchased La Gomera from her breeder Hans-Peter Asmussen, Handewitt in Holstein. The first impression was deciding. Very sen- sitive, a really outstanding jumping ability and 3 excel- lent basic gaits. She is able to use her body over the jumps in a fantastic manner.
Unfortunately we had to put down her after a severely incurable uterus suppuration with lot of of pus there at the age of 16. The retirement for her wasn't possible. Thankfully there is still her daughter Chara Noemi.

Ancestry: Her sire Tin Rocco has won international Grand Prixs, f.e. in Hamburg during the Derby. Espec- ially he was stallion in Oldenburg and he is sire of a lot of dressage-, eventing- and jumping-horses of the in- ternational sport. Regarding the anuals of breeding & sport of the national federation of equestrian in Germany there was over 20% of the placed offspring of Tin Rocco successful in jumping competitions until the highest level during the last years. This amount is very high. In 1990 Tin Rocco was first in the breeding estimation of the FN in the branch jumping and dressage.
The sire of Tin Rocco, the thoroughbred Tin Rod xx, an elegant grey stallion, had an excellent movement. But he has a very difficult character, however his offspring was hard and powerful, with a good rideability.
The dam of Tin Rocco Bajade by Roman is also the dam of the licensed stallions Lord Roman and Lux. Roman was winner of jumping competitions until 1,60m and represented the Holsteiner Verband during the DLG-Show. You can find his precious blood in many pedigrees, he has bred a lot of stallion's dams.
The sire of La Gomera's dam Lakai by Latino - Flamberg is a top model regarding type and exterior with a spectacular trot and highest rideability. Additional he was an above-average stallion, who bred many good dressage- and jumping-horses. Unfortunately he was used little regarding his chesnut colour. The breeder of Holstein have a great problem with this colour, also if they have an outstanding quality. The great-grandsire Colt by Cromwell is still in the pedigrees of outstanding sport-horses regarding his high quality of his mareline (dam is Ulana by Anblick xx, mareline 242). For all that he was only two years in Holstein. He left offspring with a good character, toughness and performance.

Own performance: La Gomera passed the mare performance test with above-average scores. She has an unlimited potential in jump- ing with an outstanding technique, and she is very easy to ride, sensitive and willing to work. Additional the movement is excellent. Regard- ing an accident during the winter 2006 with a ligament rupture in the knee she is now in breeding.
Successes: Winner in jumping competitions until 1,25m with my nephew Alexander and also both passed with success the first competitions until 1,30m.

Mareline: 776
The mareline 776 is one of the greatest and most successful lines of Holstein. It is astonishing how much sport horses are member of this line. Jac Remijnse shows in his magazine Sporthorsebreeding that this line is regular the most successful line of jumping horses in the world. Starting in the middle of the 19th century the mareline is very old.
Here you can read more about this mareline and the successes of the near ancestries in the sport. ►►►►here
Mareline of paardenfokken
Pedigree: The pedigree shows the following inbreedings:
52x to the thoroughbred St.Simon xx
15x to the thoroughbred Bay Ronald xx
11x to the thoroughbred Dark Ronald xx
each 4x to the thoroughbreds Son-in-Law xx, Ferro xx and Hurry On xx
each 2x to the Arabian Amurath ox, the Anglo-Arabian Ramzes x and the thoroughbreds Anblick xx and Herold xx
Noticeable here the thoroughbred cumulated in all generations

Percentage of thoroughbred 9 generations back: 49%
Tin Rocco
line 2165


Tin Whistle xx




Whistler xx




Panorama xx

Farthing Damages xx


Sister Miles xx




Tiberius xx


Mannabelle xx


The Rod xx




Auralia xx




The Satrap xx

Aura xx


Trottie True xx




The Phoenix xx


Ruby Mac xx


Bajade


line 18b1


Ramzes x


Rittersporn xx


Jordi ox

Dorette

Monarch

Schelle

Fajade

Meisterschüler I


Meisterschuss

Fläche

Nettine

Heinitz


Hildegard

Corinna I

main stud book


line 2533


line 1463

Ladykiller xx

Sailing Light xx


Lonebeech xx


Imela 2

state premium

Moltke I


Alja

Jasmina


state premium mare


Flamberg

Fanfar

Schalmei

Elfi

Anfang by Anblick xx


Optia

main stud book

line 242

Cromwell

Fera


Ulana


Diastolchen

state premium mare


Faber

Favorit

Heilbronn


Rebe

Lorenzo I


St.Pr.Irmgard-Nenndorf
---
Her Offspring:
2009:

by Cheetano

A beautiful and very noble filly, you could see the eightfold in-breeding to Ramzes x. Correct with a powerful top-line, much better isn't possible. She should stay for breeding.

It's terrible but we have to put down her regarding an encapsulated and hidden abscess at the backbone. Our little sunshine - we cannot believe it!

2010:

Chiara Noemi

She shows really a lot of promise. A coloured brown mare with a strong top-line and outstanding gaits. The exterieur is correct. She will stay for breeding

2014: in foal to Crunch
---
More pictures:

---
Videos:
2005, jumping competition 1,35m with Alex Faust
2005, jumping competition 1,35m with Alex Faust
2005, jumping competition 1,25m with Alex Faust

2005, dressage training with Michael Putz, rider: Alex Faust
2005, dressage training with Michael Putz, rider: Alex Faust