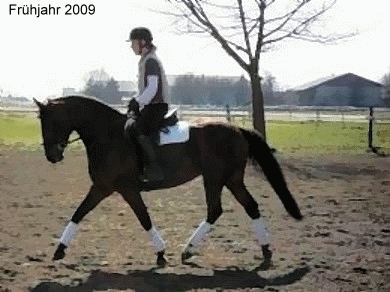 Q U E D A N A (ex: Danniebelle)
born 24. April 2005
by Da Lisco and Que Belleza by Quo Vadis
Oldenburg-Springpferdezucht, Premium Foal, 1,58m height
Que Dana is the 3nd daughter of Que Belleza and in all her 4th foal. Que Dana was awarded with the foal premium of Oldenburg-International. She is beautiful with a fantastic type and was sold to a jumping rider in Bavaria.
Ancestry: Her sire is the Belgium stallion Da Lisco by Darco - Jalisco B - Mondain xx - Seduisant (French trotter). For 2 years Da Lisco was sited at the stallion stud Holzeder in Malching. During this time he was successful in jumping competitions until 1,35m with Johannes Holzeder and winning a lot of competitions. The pedigree Darco x Jalisco B is outstanding in the breed- ing of jumping horses. Here the in-breeding of Lugano I in 4th generation attracts attention. One time above Darco, whose grandsire is Lugano I and above the great-granddam in the motherline of Que Dana, who is also a daughter of Lugano I.
Own Performance: Que Dana is easy to ride with excellent gaits. Her free-jumping shows a lot of potential with care and cleverness.
Pedigree:
Mareline of paardenfokken
Belgian


Darco


BWP


Lugano van la Roche

Lugano I


Der Löwe xx


Altwunder


Adlerflut




Ableger I


Dicherspiel

Ocoucha


Codex




Ettal


Latoucha




Faust

Atoucha


Chamade du

Poteau

Selle Francais


Jalisco B

Alme Z




Ibrahim

Girondine by Ultimate xx


Tanagra




Furioso xx

Delicieuse


Kita Pont Vautier


Mondain xx




Snob xx


Mopsy xx


Fiere Fiesta

trotter




Seduisant M

Adda II

stud book S1


Anglo Norman


Garitchou x




french Anglo-Arabian

Nikou x




Nikita III x


Miquete x

Maritchou x




Aiglon VIII x


Dame de Cour x

Isba

Brilloso


Furioso xx


Princess Star by Red Star II xx


Angelique

Pierreville

Imperiale

Doxa


main stud book


Hannover


Duft I


Duellant

Gotensage

Seeburg


Senator

Donautreue

Stud Book Mare


Lugano I




Der Löwe xx

Altwunder


Stud Book Mare


Schlingel by Shagya ox

Stute by Asti
---
More Pictures: